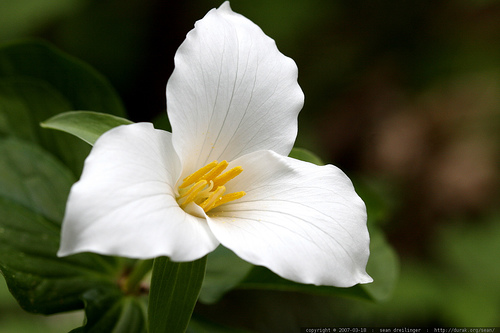 That is one cup-worthy bloom
COLUMBUS (6th) VS. TORONTO (16th)
CREW STADIUM - SATURDAY 7:30PM
TV: GOLTV RADIO: FAN 590
THE KICKABOUT:
- With true rival Montreal Impact entering MLS in 2012, is this the last "The New Soft" Derby (opposite of The Old Firm) that holds much meaning for supporters?
- Can the much-missed Danny Koevermans return from injury to help the struggling TFC offence?
- Will the long break from play be a help or hindrance to The Reds' chances of getting their first ever win over Crew?
- Does Stefan Frei regain his # 1 slot over the in-form Milos Kocic?
- If this is indeed "The New Soft" - does that make Crew Stadium "Ohiobrox"?
MANUFACTURED DERBY NAME:

"The New Soft"
PLAYERS TO WATCH:
COLUMBUS: Will Hesmer, Andres Mendoza, Robbie Rogers
TORONTO: Eric Avila, Torsten Frings, Andy Iro
THE ODDS:
- Bob de Klerk accidentally finding the cure for Athlete's Foot when he mixes Trillium petals and Gatorade together during the halftime break: 20-1
- Crew striker Jeff Cunningham missing an own goal by inches thus continuing to fail in helping TFC's goal scoring years after leaving the The Reds: 30-1
- Ohio Protestants and Ontario Catholics clashing at an Interstate rest stop: 100-1
WHO ARE YA?
- Fashion-forward TFC manager Aron Winter refuses to let the club wear its white away kit for the rest of the season as wearing white after Labour Day is a major fashion faux-pas
- The Toronto v Columbus derby has once again won FIFA's "Most Manufactured Derby" award narrowly beating out the Belgian Pro League's attempt to market the Cercle Brugge v KRC Genk fixture as "The Battle for the Best Waffle"
-Columbus, Ohio, situated on the Ohio Riviera, was actually found by Christopher Columbus in his undocumented first trip to the Americas in 1489. Landing in Mid-Ohio, the explorer reported back to Spain "...nothing to see here". Today, Columbus is a bustling city known as "The City Somewhere Between Cleveland and Cincinnati" and its main exports include childhood obesity, home foreclosure and xenophobia
THE WAGER:

2-0 Columbus (2011: 19-18 with 6 exact scores)
FUTURE HEADLINE:

"CREW RETAIN TRILLIUM CUP - ONTARIO CHANGES PROVINCIAL FLOWER TO LOSERBLOSSOM"