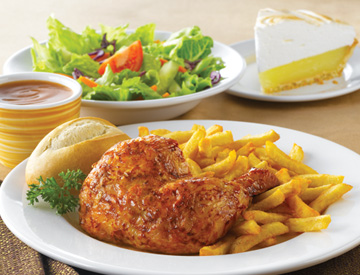 -------------------------------
Allez les Chalet!
TORONTO FC VS. MONTREAL IMPACT

BMO Field - Wednesday 8:00PM EST
TV: SPORTSNET WEST & EAST 
Salut! La Championnat du CanNut dande les pamplemousse! Oui, oui our petit pals from the other side of the 401 are heading back into town for the first match of this year's Canadian Cup aka "
The NutCan
". Let's face it,
L'equipe Fromage du Montreal
is already our biggest rivals (sorry Columbus) and with their imminent admission to MLS it's only going to grow. 
I like "401 Derby" better than "The Grass-Hockey Derby" but I won't sit back and allow Swiss Chalet's good Ontario name to be besmirched by these poutine makin', St. Lawrence straddling, Mitsou listening St-Hubert eaters! Any of you who have eaten at both chicken purveyors know - "
There's Only One Quarter Chicken!
" (Good song for Wednesday!) But not as good as the Swiss/Hubert Derby Massive: "
Q'est-ce que vous mangez?... QUARTER CHICKEN SWISS CHALET!
" 
The match however is on the pitch not in the dining area and it will most likely be hotly contested. Anyone expecting another 6-1 drubbing a la 2009 should think twice. L'Impact will be playing for points and will field a full strength side, not the second-stringers from last year. Captain Nevio Pizzolitto leads from the back with Cuban FW Eduardo Sebrango and steady GK Matt Jordan supporting. Adam, Braz, Tyler Hemming and Srdan Djekanovic represent the escaped former Reds. 
It will be interesting to see what Preki does in his first NutCan experience. Surely he's been brought up to speed on the significance that goes with the NutCan. Definitely higher in nationalistic importance (at least in footy circles) than the US Open Cup and a much easier route to Champions League. Most TFC supporters would consider anything less than a trophy a massive fail, so expect to see at least a 75% first team squad. Preki has the chance to win silverware fast - much like Chris Cummins... anyone heard from him lately? 
CHANT OF THE MATCH: Swiss/Hubert Massive (see above…
and why not buy the T-Shirt?
) 
FESTIVE SPECIAL SAYS:
2-0 Toronto
THE ST-HUBERT CHICKEN SAYS:
1-1 Draw
HEADLINE:
"MONTREAL SCORES AWAY GOAL - MO SUES FRANCE"

--------------Hey Hubert... AS Bari wants their logo back
----------"Yeah mangiacake! And your dipping sauce sucks!!!"