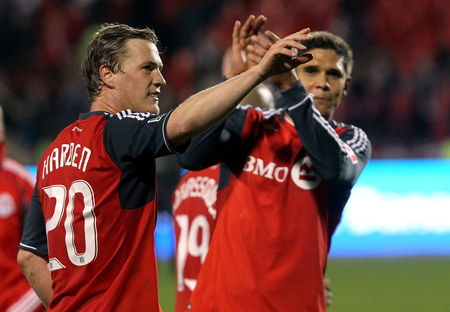 Seriously, you'll never guess which one was protected...

Less than 24 hours after Galaxy lifted the MLS Cup, it's back to business at Don Garber's Playhouse. Aside from the Cup Final, it has been a busy few days for league administrators with a few major announcements: future MLS Cup Finals to be held at the home of the highest seeded finalist (Good); a tweak to the playoff structure (Meh); and, the introduction of a conference-heavy unbalanced schedule (Fugly)  
Today's paperwork however, was the release of the Expansion Draft Protected Lists with each club shielding certain players from L'Impact du Montreal avec le Bibliotheque's grubby, petite, Joe Louis-grabbing fingers. Of course, our beloved Dutch-Anglophone Toronto FC were part of the gang aiming to shield their wares and protected the following:  
Eric Avila
Terry Dunfield
Richard Eckersley
Stefan Frei
Torsten Frings
Ty Harden
Andy Iro
Ryan Johnson
Milos Kocic
Danny Koevermans
Joao Plata
A curious list that answers some questions but raises many more. First of all... the Ty Harden love-in continues? That dude must have some gnarly pics of Winter and de Klerk in Amsterdam. Mark us befuddled but the reasoning could be to hold on to as many defenders as possible in the thinking that Montreal won't take a flyer on the unprotected Adrian Cann and Dicoy Williams who both suffered major injuries in 2011.  
Other notables left unprotected include: Julian de Guzman (for the second season running) whose massive contract is seen as a no-go in expansion drafts; Nick Soolsma who became a useful depth attacker but whose international slot makes him an unlikely choice; and, Peri Marosevic, a youngster with some potential who could very well be tempting to Les Bleus et Noire.  
On a positive note, the protection of Joao Plata and Richard Eckersley, both on loan from their parent clubs, could be a positive signal that TFC is making progress in their permanent signings with The Reds. The only other minor protected surprise is Terry Dunfield whose passport may have made him tempting. Overall the only real point of discomfort is a gnawing feeling that Iro and Harden could still be lined up next to each other come March. As for the rest... vous êtes les bienvenus pour les Montréal.