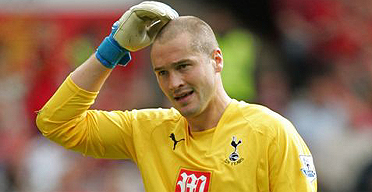 "Umm, no - not me, the other one"

DERBY DELAY
Toronto FC's scheduled match against Columbus on Saturday has been postponed to allow the Crew organization to attend funeral services for Kirk Urso. Urso, Columbus' rookie midfielder died suddenly last Saturday and the club requested the fixture change from the league and TFC. "Given the tragic circumstances we agreed to accept this change in the schedule," said Reds' manager Paul Mariner. "Our thoughts are with the Urso family and everyone at the Columbus Crew during this difficult time." The match has been moved to August 22.
FREQUENT FLYERS
While the tragic reasons for the rescheduling of Saturday's match takes priority over football issues, the change in fixture throws a wrinkle into TFC's match preparations. The last two weeks of August will now see The Reds play a taxing five matches in two weeks. This stretch will include a five-day period which sees TFC plane-hopping between Toronto, Columbus and Houston before returning home to host Santos Laguna in a critical CCL match-up. The end of the month offers little respite as the Santos Laguna fixture is followed by a trip to Sporting KC and their fortress-like Livestrong Park three days later.
TRIAL OF THE CENTURY SUMMER
A small advantage to having the weekend off is that the club gets to have a longer look at the latest three trialists to jog their wares around Downsview Park. This year's trial list has only produced backup keeper Freddy Hall so far but there three intriguing players wearing green bibs this week:
PAUL ROBINSON:
PROS: Offers depth at centreback and on the left side as well as veteran leadership / Played alongside new Red Darren O'Dea at Leeds briefly / If signed you can say the sentence "We signed Paul Robinson... (wait for reply)... no the other Paul Robinson" over and over again
CONS: 33-year old journeyman who is a bit broken-down and won't be cheap / Could stymie Ashtone Morgan's playing time if Mariner goes "old Englishman love-in" / ex-Watford player and resident could force us to wear yellow kits next year and/or hear an increase in Elton John
BEST POTENTIAL NICKNAME: "The Other One"
DIEGO CERVANTES:
PROS: A healthy 6 foot 3, 27-year old centreback / Has tons of experience playing in CONCACAF environs / Has possibly played for every team in Mexico
CONS: Could mark the end of Adrian Cann's Toronto career / Needs to be loaned out to a new club every year to survive / Will have to fit in on a club that has about as much Latin flair as a Taco Bell in Oshawa
BEST POTENTIAL NICKNAME: "Donkey"
ANTWAN RUSSELL:
PROS: Along with Reggie Lambe and Freddy Hall, will complete TFC's "Bermuda Triangle" / You can't have enough ex-Dandy Town Hornets
CONS: For a forward, has very little goal scoring history / Will exhaust TFC's tapping of the Bermuda market, forcing us to look at St. Lucia
BEST POTENTIAL NICKNAME: "Bermudinho"
And... since it's Friday, we could do with a dance, we have no TFC this weekend and things could end up getting aimless like so...