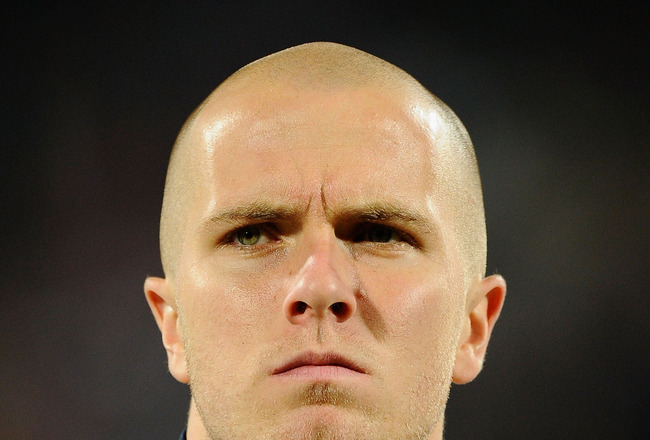 We have the same look on our faces.

Taylor Twellman did to Toronto FC supporters what he used to do to us as a player - make us shake our heads in disbelief. This time however it wasn't dissecting a TFC defence with a cheeky pass but via the keepie-uppie of the internet, Twitter...
Ready for a blockbuster? I'm hearing @torontofc on the verge of signing Michael Bradley. Would be a huge coup for @MLS and @torontofc #USMNT
— Taylor Twellman (@TaylorTwellman) January 8, 2014
Read it once. Read it twice. Go on - thrice it. It's apparently true and being backed up by more than a few sources close to the US Soccer program. Not yet in the world of "imminent" but many using "in the works" to describe the rumoured 7M Euro transfer of the 26-year old American midfielder from AS Roma to BMO Field.

On a day that was going all Jermain Defoe (see following post) things have taken a shocking and unexpected turn. Could this still all end up as nothing but transfer window coocoo-kaka? Sure. It happens. But to say that TFC is being quite audacious in their attempt to flip this club upside down is an understatement. If of course this is true.

This rumour obviously has a lot of smoke attached to it but a deal of this scale is not going to pass easily. There will be salary negotiations, the mysterious world of MLS DP transfers and also the itchy reminder that (with Defoe) TFC will already have their three Designators. Shenanigans will have to ensue for this to go through but grabbing the US National side's midfield maestro would turn TFC's off-season from evolution to full-blown revolution.

That was not a Taylor Twellman pun.
UPDATE (January 9th, 2014)
Things are moving at a very rapid clip surrounding all things Bradley to TFC. The midfielder was first left off of AS Roma's squad today which was followed by reports that his agent has called the deal to Toronto "complete". More reading on potential baldness sightings
here
...