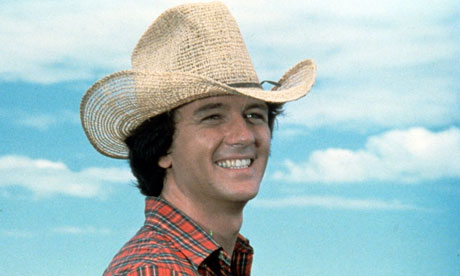 Bobby Ewing: Good dream sequence, crappy airport

The Yorkies present "CONCACAF Geographic" - a three-part travel guide for those with the expendable funds, masochistic streak and strong stomach to tackle supporting Toronto FC away during the Champions League Group Stage. Our travel department has been hard at work to bring you this three-part bonus, non-pullout, section of The Yorkies. Pack your bags for Part 1 of 3...
WHAT TEAM AM I WATCHING?
First up, in an alphabetical sense, is FC DALLAS. The most familiar of TFC's three group stage amigos; we will have played the Texan MLS club four times by season's end. Known locally as "The Hoops", "Los Gringos de Futbol" or "We have a soccer team?" FCD are led by dynamic young midfielder Brek Shea as well as bovine club mascot Tex Hooper. Celebrity supporters include J.R. Ewing, death-row inmates and cattle.
WHERE AM I GOING?
Pizza Hut Park in the Dallas suburb of Frisco, Texas - the top-ranked pizza-themed football ground in mainland USA. Frisco, or "The Gateway to Obesity" as it is known in tourism circles, is one of the United States' friendliest yet most rotund suburbs. Founded in 1970 by the inventor of Frito-Lays, Frisco was meant to be an urban oasis designed on the shape of a ridged potato chip but is now mostly famous for the downtown Rodeo Clown Memorial and the State parole board's "Electrocution Wednesdays"
HOW DO I GET THERE?
There are regular flights from Toronto to Dallas-Fort Worth or you can attempt to grab a cargo flight into Frisco's new Bobby Ewing Non-International Airport. It is recommended to rent a 1970's Cadillac with longhorns attached to the hood during your stay as the only local public transportation includes chuck wagons and $3 piggybacks on the shoulders of illegal immigrants
WHAT SHOULD I TAKE WITH ME?
To paraphrase The Matrix - "You're gonna need guns. Lots of guns." Yes, in Texas, a sidearm is a way of life and in most major hotel chains you will be expected to "take down" your breakfast before it is deep fried for you. Chaps, a tool to add holes to your belt, a right-wing Christian agenda and knowledge of sauce are also recommended.
WHAT SHOULD I EAT & DRINK?
When in Rome, do as the Romans do. When in Texas, take a defibrillator. Honestly, you can eat anything you like in Texas as most of it arrives deep fried, or, in the case of Tex-Mex, wrapped in a casing ending in "ita"... then deep fried. We recommend fasting for three days for every meal you plan on eating. And remember, when you order your eggs "scrambled" - that means scrambled with a burger and fries and wrapped in a pizza... then deep fried and served in a burrito... usually brought to your table in a bowl of chili.
WHAT SHOULD I LOOK OUT FOR?
While no more dangerous than your average American suburb (so actually, very dangerous) there are precautions to take in Frisco. Be sure to look into the sky regularly as guns shot into the air do tend to drop their bullets recklessly; If you take the Lord's name in vain... that's a shootin'; If you can't finish your steak... that's a shootin'; and if you besmirch the name of any Bush... that's a shootin'. Also... steer dung.
WHAT'S A HANDY PHRASE TO REMEMBER?
"Howdy y'all, I sure do like them there (pick one) shotguns/ chimichangas / Republicans / Hooters girls / anti-abortionists / hats / evolution debunkers." Follow this with two pistol shots in the air or into dirt.
Be sure to check back for our CONCACAF Geographic guides to Pumas UNAM and Tauro FC coming soon