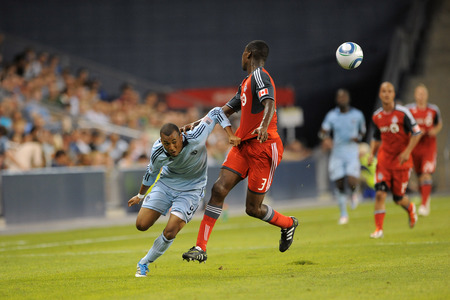 "Behind you Andy! Oh... never mind."

A little bit of a shocker out of TFC's pre-pre-season today as the club
confirmed
that both Andy Iro and Peri Marosevic will not return to The Reds in 2012. "Both Andy and Peri declined our contract extension offers and now the club is ready to move on," were the words from the Dutch Master Aron Winter who is no doubt ready to welcome new recruits to fill their roles.  
Andy Iro was brought in mid-way through 2011 as the potential answer to TFC's woes at centreback. The giant Liverpudlian was the final piece in the DeRo-series of trades which saw Tony Tchani move to Columbus in return for Iro and Leandre Grifft. Iro, who had been particularly solid with Crew in 2010 seemed to be exactly what the doctor ordered after the injuries to Adrian Cann and Dicoy Williams but it simply never happened. Whether it was a case of not having the footballing IQ to pick up Winter's system; nerves of playing on a bigger stage; or, not being up to the task of having to be partnered with the equally calamitous Ty Harden - we will never know. In the end, management couldn't have had a great deal of confidence in Iro for 2012 and a change of scenery may be best for the affable 27-year old to regain his composure.  
Peri Marosevic, while not as integral a member of the club, is still a surprise in his departure. Picked up on waivers after falling off of FC Dallas' radar completely, Marosevic was given a late-season opportunity to show his wares and seemed to do fairly well. Grabbing two goals and playing numerous midfield positions in his seven appearances, many would have expected his return but perhaps this decision simply came down to dollars. With the drafting of Luis Silva and the signing of Reggie Lambe, Marosevic may just have been a luxury TFC wasn't willing to spend enough on.  
The alarm bells for many supporters will of course be Iro's former position in the centre of defence. While TFC drafted Aaron Maund, most would assume he is far from a starter. The rumoured names of Chilean Miguel Aceval, Ecuadorian Geovanny Caiceda and others will no doubt be a lot hotter this evening as the sudden 215K in salary cap room burns a hole in TFC's hands. Or we could just go ahead and pencil Ty Harden in for March 7th... anyone?