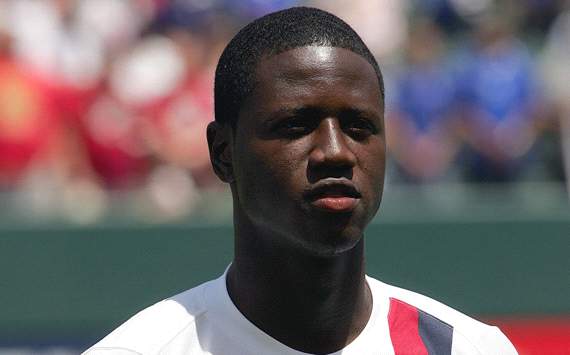 Eddie Johnson's a thing... right?

FLORIDULL
There's a strange feeling amongst TFC supporters that training camp is quiet... too quiet. So unaccustomed are we to a drama-free lead up to the season that some are getting worried. Why no more trialists? Why not enough friendlies? Why is no one threatening to leave the team? You can't blame Toronto fans - it's just all so new.
To fill the void (a little) TFC will play a scrimmage today against University of South Florida (Up The Bulls) in preparation for their upcoming participation in the Mickey Mouse Cup next week. Sadly no footage will be made available as Florida has somehow become more rural to TFC TV than Turkey was last year.
What's that you say? You still need more crumbs? Well you can always hold your breath for the Eddie Johnson MLS allocation process. One "lucky" team will get their hands on the American striker who didn't have the best European sojourn after ditching MLS. TFC has the fourth highest shot at landing Johnson and despite seemingly needing some Koevermans cover, don't appear to be interested.
Still bored? Come on - we're trying! For those of you out there who still harbour negative views or at worst apathy towards Julian de Guzman, the Toronto Sun's Kurt Larson catches up with the Scarborough native to find out where he's at. The sometimes unfairly maligned midfielder has some interesting thoughts about his time with TFC, the future of his contract and the tactical naivety of Preki.
APPLY WITHIN
Most TFC fans have heard about the club's "TFC Dream Job" competition by now. The Yorkies are of course endorsing applicant Maurice J. but couldn't help wonder what specific Twitter hashtags the club may have used if this competition had been available in the first four years of the club's existence...
#CarlosRuizLocator
#ButtyStacker
#BitchyWrangler
#RetweetWithRicketts
#CollinSamuelBuffetCleanUp
#DichioShaver
#JimmyBarista
#FirstWavePhoneOperator
#KevinHarmseRedCardCollector
#GabeGalaEgoMaintenace
#BarretBallCollection / #TopRowOnly
#TitusBiographer
#GerbaGirdler
#ImaginaryChequeCashier
#JPetersonNRAGodBlessAmericaFreedomFriesPickUpTruckAssociate
#HscnvcsVwlFndr
#TakeAPunchFromMaxim
#MaiconSantosMikeSandersTransformer
#FiveYearPlanner