That should just about cover everyone
With two home fixtures remaining for TFC supporters (well the ones who can be bothered to go) it may be time to get a jump on your player Bon Voyage cards. While Paul Mariner once claimed "...we're close (to competing). I promise"... would-be GM Earl Cochrane countered that the club likely needs 8-9 new faces. Where these warm bodies be acquired from - either Bosman signings, MLS trades, or the academy - is anyone's guess. However, the eternally cap-pressed TFC won't be able to bring in that many newbies without freeing up some existing salary.
With that, we take a quick look at the roster and who could and/or should be facing their last days in TFC red. We work on the very, very hypothetical (not hypercritical, Paul) assumption that TFC can indeed bring in numerous replacements in order for you to get your craft kit out and design a few farewell posters. Glue and glitter at the ready....
QUINCY AMARIKWA:

Mariner seems to love Jamiroquai but he screams one-dimensional sprinter with only rumours of a scoring touch. Shouldn't stick around but probably will.
2013 PREDICTION: Starting TFC striker
ERIC AVILA:

The manager obviously has no place for Avila whose appearances have become Loch Ness Sasquatchian in occurrence. Get your "So Long Avi" poster ready.
2013 PREDICTION: Goal, two assists and Man of the Match on opening day... for Chivas USA
ADRIAN CANN:

Former TFC MVP was supposed to be the returning stabilizer on the defence but was never in Mariner's plans. Add a backpack to that 10-pack.
2013 PREDICTION: Prepping for Mr. CHIN Picnic pose down
OSCAR CORDON:

Development seems to be halted and may have reached the end of the line with Toronto. Could stick as Reserve Team fodder.
2013 PREDICTION: High-fiving Gabe Gala with Mississauga Eagles
TERRY DUNFIELD:

Not "the ultimate box-to-box player" but a handy leadership presence at a low-cost who should be bench-depth only
2013 PREDICTION: MLSE's poster child as they try to find the "Wendel Clark of the FC's"
RICHARD ECKERSLEY:

Everyone loves his heart and desire - no one loves how much he gets paid for it. Still better than most we have for now and will likely be here.
2013 PREDICTION: Red Cards
LOGAN EMORY:

A very low-budget workman who can play a few positions but in reality - a solid NASL player. Should only stick as bottom of bench emergency depth
2013 PREDICTION: Starting TFC centreback
STEFAN FREI:

If he regains full fitness he will be the # 1 in goal. One of the few no-brainers.
2013 PREDICTION: Still looking behind him in disbelief then at defence in bewilderment
TORSTEN FRINGS:

Wow. Will his body bounce back? Does he even want to come back? "Frings ain't what they used to be" and they ain't cheap either. A chance that club and player may call it a day.
2013 PREDICTION: Filling water bottles, dropping pylons at Werder Bremen
FREDDY HALL:

Always looking dodgy in goal but always with an awful defence in front of him. Surely there are better players to use an international slot on than the smiling Bermudian.
2013 PREDICTION: Lost in the triangle of free agency
JEREMY HALL:

Useful in that he can play multiple positions, possibly more useful that he may garner MLS trade interest. Not a starter but very handy on the bench
2013 PREDICTION: Starting TFC left-back
TY HARDEN:

The longest goodbye of all! How he is still here is mind-boggling to all.
2013 PREDICTION: Returns from season-ending "mystery injuries"; re-signs with TFC on lucrative 5 year deal
ERIC HASSLI:

Le Rental could have come for free after the season but Mariner understandably gambled a 1st Round Pick for him. Would welcome him back... on a non-DP contract only.
2013 PREDICTION: DP contract in Toronto. Constantly trying to replicate his circus shot goal.
DONEIL HENRY:

Re-signed with the club so you can assume a return. Needs more first-team experience to progress - even if it is on-loan
2013 PREDICTION: Still being the guy TFC supporters say "if we're going to lose 3-0 anyways, I'd rather see them play Doneil Henry!" about
RYAN JOHNSON:

At times a beast, at more times frustratingly invisible. Maybe has trade value but are there replacements available?
2013 PREDICTION: Making TFC supporters scream for him / at him.
MILOS KOCIC:

Would be ideal to keep Kocic as a very capable # 2 to Frei - all Mariner signs point to no. The fertile Serb seems to be in an unlikely doghouse but has proven capable of being a MLS starter
2013 PREDICTION: Sleepless nights.
DANNY KOEVERMANS:

Even when he's not injured it takes Koef four months to shake off his winter pancake-layer. Will need a major off-season effort to regain use but is it worth waiting until June or July for him? Talent-starved TFC will say yes.
2013 PREDICTION: Hearty winter meals, Catan Settling and a goal in August.
REGGIE LAMBE:

At a surprisingly low cost, the affable Bermudian still has an upside. In a perfect world he comes off the bench but "perfect world" and "TFC" are rarely written together.
2013 PREDICTION: Starting TFC winger; Tweeting in hilarious patois
NICHOLAS LINDSAY:

TFC only in name. Complete unknown due to injury; local status will at least get him a look.
2013 PREDICTION: Regretting decisions
KEITH MAKUBUYA:

May fill a similar spot if the promised replacements are not found. Past promise seems to have diminished.
2013 PREDICTION: Just pleased that he made it into FIFA13
AARON MAUND:

A very NCAAish square peg who Mariner tries to fit into a DM sized circle. Out of his depth but will most likely return.
2013 PREDICTION: Starting TFC defensive midfielder
ASHTONE MORGAN:

Must work hard to develop to next level but local fans love him and he has stepped up to the Canadian Nation Team - which means TFC will screw this up.
2013 PREDICTION: San Jose Earthquakes MVP
DARREN O'DEA:

For us, the best thing Mariner has done. Not perfect but a hard, strong defender who already loves the city and club (?) and exudes vocal leadership. Give him the permanent captaincy and move forward.
2013 PREDICTION: Fan favourite.
QUILLAN ROBERTS:

The jury is still out on the academy product and whether he can really be a # 2 or better if called upon. Will likely be in camp.
2013 PREDICTION: Showing strangers his goal vs England on YouTube
LUIS SILVA: A lock. While maybe not as astonishing a talent as some would promote - he will likely develop into a good MLS attacker. Surely TFC can't screw this up.
2013 PREDICTION: TFC screws it up.
MATT STINSON:

Like Cordon, an academy product that may have been promoted too quickly. Has more MLS raw material than Cordon and Makubuya though and deserves another look.
2013 PREDICTION: Anchor of the midfield... on reserve team
ANDREW WIEDEMAN:

Oh boy. Exalted by Paul Mariner as the greatest finisher since Pele Maradona Jr., Wiedeman has shown nothing in his many chances to make anyone around here a believer. However, the manager has a huge crush on him and he will likely return.
2013 PREDICTION: Redefining the "modern era"
DICOY WILLIAMS

: At the end of the day, Williams has had one solid month as a Red. So starved for quality on defence here that he was given Jamaican Messiah status but injuries have halted the second coming. International spot may prove too much.
2013 PREDICTION: More morose Tweets
So, take our advice if you like and get those "AVI GOOD YEAR AT CHIVAS"; "WE HARDEN-LY KNEW YA!" and "YOUR ABS WERE FAB ADRIAN" posters ready. Only two chances left before we see the next crop of guys... who we will say goodbye to in 2014.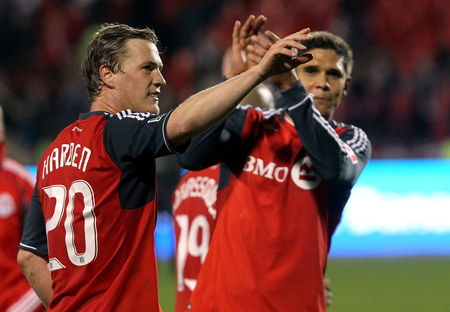 Yes, bye guys. We get it.