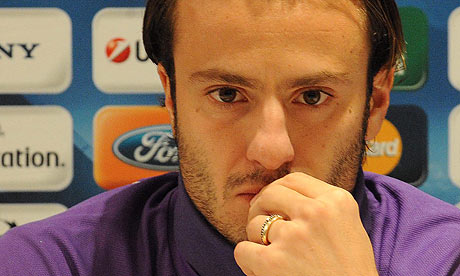 "Can I get back to you on this one?"
Media in the land that TFC has so famously ignored (apparently) - Italy - is reporting today (translate for your pleasure) that Serie A club Genoa has accepted a transfer offer from Toronto for striker Alberto Gilardino. The rumoured $6 Million Dollar (US dollars assumed) fee is said to have met Genoa's demands for the forward leaving it up to the player to decide if BMO Field will be his next port of call.

From that point forward, details are muddled at best. Is the deal for the January window? Unlikely - probably post-World Cup. Could it really be a four-year deal meaning Gilardino would be 36 at the end of this financially hefty deal? Probably. And, is he honestly the best target for TFC's impotent offence? Hmm. Better than anything we have by a great deal but perhaps not the absolute best bang for the buck, not even amongst other potential Italians.


If and when this deal goes through there will be more than ample time to hand-wring over its pros and cons but it leaves us with a slight unease for a few reasons. The very large long-term financial anchor; the player's diminishing goal-scoring tally in the last few seasons; and, Gilardino's style of play which demands top-level service to poach goals rather than creating them with mobility. Lots of holes to fill before that exists in any form at TFC.


At full health and at his form of three or four years ago, wonderful. As an aging Italian version of Danny Koevermans... notsomuch. Here's hoping the ever-sophisticated TFC scouting goes deeper than his passport and former national team exploits. He will fill some of those empty seats for a while but they will only return if he is on a winning side. As with most of the other TFC DP rumours currently floating around, it has the strong whiff of marketing over tactics.