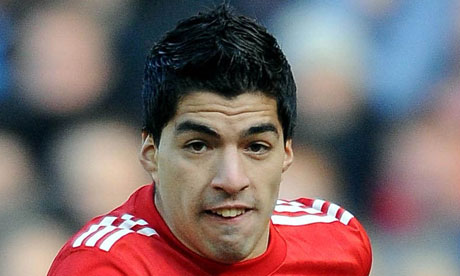 Suarez: Non-feline, sometime-racist version
"We're haven't won a match in 2012... grumble, grumble"
"OMG it's Steven Gerrard for 20 minutes!"
"This rebuilding process is going nowhere fast"
"Yahoo we get to sing 'You'll Never Walk Alone' poorly!"
"TFC has no depth at forward or on defence!"
"Is that Suarez?"
"My kitty cat?"
"No Soolsma - the sometimes racist Uruguayan!"
That's right, much like the early days of Toronto FC's existence, the sad state of the club is being promotionally ignored with a big, shiny, mid-season, absolutely meaningless friendly. Where the likes of Aston Villa, Benfica and Real Madrid once stepped, along comes those other Reds - Liverpool FC, in a match soon to be made official.
Unlike the previous friendlies, this one will be held in SkyDome on July 21st in a fixture that the club will carefully state is being organized by the good people at Rogers - and not them. Somehow TFC are innocent victims in this profit-making scheme which may help answer angry questions lobbed their way about their acceptance of changing a pre-existing fixture in order to open this slot. The fact that the MLS fixture is rescheduled to a date during an International break later in the year where many Reds (the Toronto kind) will be absent is none of your business. Did we mention Liverpool?
These mid-season friendlies - that always mange to injure someone for the season - are simply bush-league in a market like Toronto. Sure it was fine in the early days in order to build the club's popularity, but weren't we supposed to be way past that? Instead, it harkens back to the bad old days of Mo Johnston where we were expected to ignore the utter garbage of our weekly MLS existence because we'd have the honour of paying through the nose to watch Cristiano Ronaldo do keepy-uppies for 45 minutes.
In a season that has started off in as calamitous a fashion as possible - these shiny distractions may make a few ex-pat Merseysiders forget that TFC can't win a game but it does nothing to help the club. Watching Danny Koevermans tear his hamstring against a Liverpool reserve squad defender isn't going to make any new MLS fans out of Liverpool die-hards in attendance nor will it help develop a TFC team who may be looking at six years without playoffs. There is only one reward that Reds fans who brave BMO Field all year deserve, and it's not listening to other Reds fans pretend that SkyDome is Anfield.