Disclaimer: Graphics and information for today's match preview have been provided by the detail-oriented London Olympic Committee's (LOGOC) production team...

Please welcome our Texan opponents!
TORONTO VS. HOUSTON
BMO FIELD - SATURDAY 4:30 PM ET
TV: GOL TV

----

RADIO: THE FAN 590
THE KICKABOUT:
Much has changed since these two clubs last met. The Houston fixture was overshadowed by the fiasco at Club Escobar which saw "The TFC Three" (Miguel Aceval, Luis Silva and Nick Soolsma) arrested for public intoxication. It was also in the early days of "The MarinEra" as new manager Paul Mariner attempted to pull TFC up by its bootstraps. Since that time, two of the "TFC Three" have been dispatched and Mariner has indeed made improvements on his predecessor Aron Winter - the two of them now managing an equal number of games in 2012.
The return fixture sees a resurgent TFC but one still full of questions. The acquisition of new DP Eric Hassli has mostly been greeted with curious silence and his inclusion on Saturday is (at this moment) a major mystery. There have been concerns over Hassli's headspace since his deal from a town he had grown to love (for some reason) took place and if he doesn't play, attacking duties may fall to newcomers Andrew Wiedeman or Quincy "F*ck Yeah" Amarikwa. Defensively, TFC still apparently awaits a new signing or two but for now, the winning ways may have to be overseen by
the same starting eleven.
MANUFACTURED DERBY NAME:

"Happy Hour II: Escobar's Revenge"
PLAYERS TO WATCH:
TORONTO: (Possibly) Eric Hassli, Ryan Johnson, Luis Silva
HOUSTON: Oscar Boniek Garcia, Brad Davis, Andre Hainault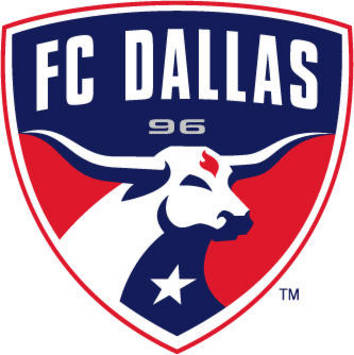 The badge of Dynamo Houston (source: LOGOC)

THE ODDS:
- Ryan Johnson running like a Jamaican Olympic sprinter: 2-1
- Quincy Amarikwa running like an American Olympic sprinter: 3-1
- Eric Hassli tackling like a French Olympic wrestler: 5-1
WHO ARE YA?
(Brought to you by The LOGOC information department)
Houston, on the banks of the mighty Mississippi is home to baseball club Chivas USA who play out of the Orange Bowl Arena. Renowned for its coal mining industry and cool climate, this area of the Loan Star State also boasts famous historical sites such as The Alamo and the Chichen Itza. In recent years, Houston has entered the space race and successfully launched the satellite Sputnik from the George W. Bush Space and Pistol Center.
POST-MATCH HEADLINE:

"TFC PLAYERS WALK OFF PITCH AFTER LIVERPOOL LOGO FIASCO"
LOGOC has provided us with this entertaining video of the Houston area's most popular TV drama based on its interplanetary oil drilling industry...