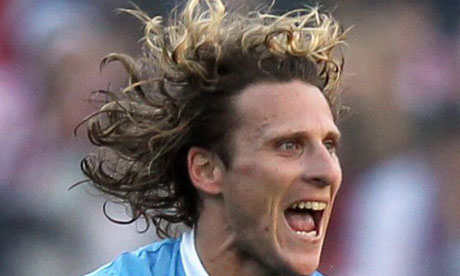 A hair-raising possibility!

There is much to say about the widely rumoured imminent signing of Uruguayan forward/ shampoo & conditioner aficionado Diego Forlan. We will cross that elderly South American bridge when (and if) we come to it. Who knows... we may only be hours away from the unveiling of the
TFC marketing department's newest star
the next legend to don the famous TFC Red. While Forlan is beyond a doubt in the twilight of his career, the 34-year old can likely attract interest from other international clubs so why consider
career graveyard
BMO Field?  
11. He would immediately go down in history as one of the Top 10 Greatest Uruguayans to ever play for TFC  
10. His family are desperate to meet hilarious international YouTube comedian "El Mayor Rob Ford"  
9. He wants to get as geographically distant from countryman Luis Suarez's "biting range" as possible  
8. Pumped to reunite the Manchester United magic with kid he once saw in the Old Trafford parking lot - Richard Eckersley  
7. When Jim Brennan calls - you answer.  
6. It would be an honour to continue the lineage of great TFC strikers like Lombardo, Cunningham, Gerba and Mista  
5. Famous Canadian health care system will be handy when ACL ruptures after first match on MLS artificial turf  
4. He's an amateur hawk wrangler  
3. In his honour, Toronto movie rental institution "Queen Video" has promised to change name of store to "Monte Video"  
2. The Greater Toronto Area is a hub of innovation in the field of effeminate hairband technology  
1. The completion of TFC's new Five Year Plan will be a great 40th birthday present!