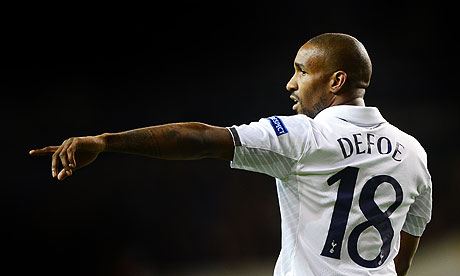 Get used to telling guys where to stand mate

"Glamour models" of Canada rejoice! According to internationally renowned truth-peddling newspaper The Mirror, Toronto FC have found "the biggest MLS DP of all timez" - Tottenham Hotspur stalwart/lady aficionado Jermain Defoe.

Now this is isn't the first time that TFC and Defoe's name have been linked in a #LeiwekeLeaks scoop but it is the first time that any major media outlet has gone as far as to say that a deal has been struck. And what a deal*! A reported $150,000 (US)-a-week, 4-year contract which we assume includes Andrew Wiedeman as Defoe's butler. This is in addition to an apparent transfer fee in the $10-12 Million range to be paid to Spurs.

How sure are The Mirror that this deal is done? They hired the top designers in the Fleet Street game to Photoshop Defoe's face onto a Mountie. That kind of Rap Game Stereotyping does not come cheap!

Now before we all run out and get our TFC Defoe kits made (Except you of course, torn Toronto FC/Arsenal supporters. Suck it.) let us remember that TFC and transfers are never a black-and-white case. From Urrutis to Forlans to Gilardinos and er... Ben Haims - this stuff never goes smoothly at BMO Field. Does Defoe "tick all the boxes" for Tim Leiweke and TFC? Yes. Does a player intent on making England's World Cup 2014 squad pine for a move to Major League Soccer's clown college? Not so fast.

Various mainstream North American media types are hedging their bets for and against The Mirror story tonight. Some are corroborating the rumour, some are saying it's being worked on and the odd one is pointing at TFC's history and laughing milk through their nostrils. Most likely where there is this much smoke, there is some fire. Whether or not it ignites into a full Deferno, the next few weeks should tell.

Many TFC fans will simply not believe this rumour until Jermaine Defoe is a solid 15 minutes into a match wearing the red of The Reds. This is a safe way to treat this for now. Could Defoe do a good job at TFC? Undoubtedly... but let's worry about that when said shirt goes over said rumoured DP's head.

Sunshine Girls - you have been warned.