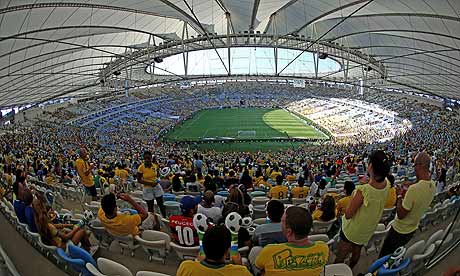 ARRR-GOOOOS!!!
Brazil! It's so hot right now! The nation that brought us the nut, flip-flops and modern pubic hair fashion is on everyone's lips. As hosts of the World Cup, this South American giant is under the global spotlight and our local club Toronto FC has noticed. Always an outfit looking to promote the crap out of something, The Reds plan a massive Brazilian makeover to cash in on the samba rhythms. No that's not the sound of wax ripping away from a hairy nether region - it's cash ripping our of wallets when TFC puts these Amazonian plans into fruition!



11. Maicon Santos to replace Jim Brennan in emergency addition to Wall of Honour



10. BMO Field security to unveil new carnival look with armoured thongs and flip-flops now part of uniforms



9. Gilberto to try this "goal-scoring" thing popular in Brazil



8. MLSE to purchase Liberty Village - turn into a favela



7. Andrew Wiedeman to entertain the crowd with giant comedy Ronaldinho teeth



6. "The De Ro... De Ro Cabana!"



5. Bitchy the Hawk replaced by Surly the Seven-Foot Anaconda



4. Joe Bendik roams around crying in a tiny towel



3. Bright Dike forced to drop one of his names



2. Argos to Maracana



1. Tim Leiweke? Smooth all over.