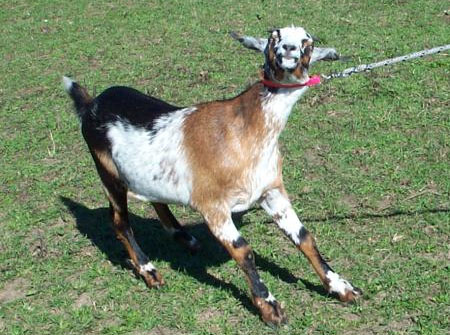 Doesn't want to face Pumas either

THE BUZZ:
The only real prize for the winner of tonight's match will be for overly optimistic Goats or Robins supporters (yes, we are trying call TFC "The Robins" for sh*ts and giggles) to pretend for one week longer that they have a playoff hope. The truth is, both clubs are on the outside by some distance looking in and are mostly playing for pride and 2012 jobs. The question going in for TFC was whether or not Aron Winter would play a 2nd Team to keep bodies fresh for Tuesday's CCL tilt with Pumas. Heading into Home Depot Centre however, it looks as if Winter decided on the 1st Team option. Stubborn as a goat - or exhausted by Goats? A decision that may haunt the rookie manager if The Reds are flat on Tuesday.  
FIRST HALF:
8' -
YELLOW CARD:
Ashtone Morgan
12' -
GOAL:
Chivas USA - Juan Pablo Angel
CHIVAS USA 1 - TORONTO FC 0
27' -
YELLOW CARD:
Richard Eckersley
44' -
YELLOW CARD:
Andy Iro  
FIRST HALF HIGHLIGHT:
Not letting in four goals.
FIRST HALF LOWLIGHT:
TFC ruining our "Goatbusters" theme.  
HALFTIME: CHIVAS USA 1 - TORONTO FC 0
SECOND HALF:
45' -
SUB:
Terry Dunfield for Julian de Guzman
71' -
GOAL:
Chivas USA - Justin Braun
CHIVAS USA 2 - TORONTO FC 0
73' -
SUB:
Peri Marosevic for Ryan Johnson
77' -
GOAL:
Chivas USA - Juan Pablo Angel
CHIVAS USA 3 - TORONTO FC 0
84' -
SUB:
Danleigh Borman for Danny Koevermans  
SECOND HALF HIGHLIGHT:
Koevermans and Eckersley's near-goals.
SECOND HALF LOWLIGHT:
Chivas' actual ones.  
FULL TIME: CHIVAS USA 3 - TORONTO FC 0
THE MOOD:
Whether it's justified or not - when TFC inevitably fails to beat Pumas on Tuesday, many will put the blame squarely at Aron Winter's squad management going into tonight's match. There were many calls for Winter to play a 2nd unit against Chivas considering TFC's impossible MLS playoff chances and the importance of the CCL match. Truth be told, The Robins (again!) would struggle against a superior Pumas no matter the line-up but patience is at a low ebb and many will grumble towards the Dutch manager. Silly optimistic playoff talk can now end for good and in 72 hours we may be saying that about 2011 in general.
The match left us feeling:
like we wanted a refund for our Saturday night.  
PLAYER RATINGS:
Stefan Frei 6 / Richard Eckersley 5.5 / Ty Harden 5 / Andy Iro 5 / Ashtone Morgan 5.5 / Julian de Guzman 5 (Terry Dunfield 5 ) / Torsten Frings 5.5 / Eric Avila 5 / Nick Soolsma 5 / Danny Koevermans 6 (Danleigh Borman - ) / Ryan Johnson 6 (Peri Marosevic - )  
THE YORKIES' TFC MAN OF THE MATCH:
Ugh. Ryan Johnson?
TALKING POINT:
If a fake Mexican team beats us this bad - what will a real one do? Discuss.