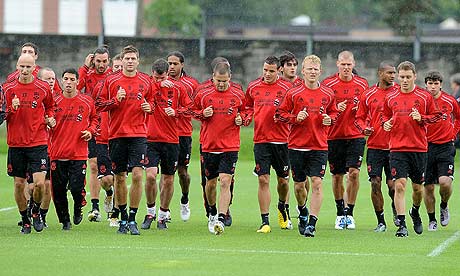 Jogging Liverpudlians - free with $50 purchase!

Bafflingly, Toronto FC could spark their second "perfect storm" of supporter discontent in three years. Few need to be reminded of the ill feelings churned at BMO Field for 2009's Real Madrid friendly where TFC supporters, in the midst of yet another terrible season, were asked to pay through the nose to watch Cristiano Ronaldo do step-overs for 45 minutes. It took a long time to heal the anger of many who felt used by MLSE over that match and for many it was the final straw in supporting the local side.
Fast forward three years and the ownership may be stumbling daftly into the same folly. With results on the pitch reaching new lows, timing couldn't have been worse to announce the latest expensive side-show to hit Toronto – Liverpool FC. For many it smacks as yet another attempted distraction, almost telling TFC's long suffering faithful "yes, the season is a disaster but just ignore that and come see this famous Premier League team! Oh... and pay for it please". While MLSE is feigning innocence at their "invitation" to play at Rogers Centre, most season ticket holders have been around long enough to know this song and dance.
For some, the money issue isn't even the biggest sin in the scenario. The ownership's happy acceptance of changing an existing MLS fixture to make room for this meaningless match is worse. For a club whose goal is apparently (just) making the playoffs, pushing the original fixture against Chicago to the crowded latter portion of the season is a slap in the face to the importance of the league to TFC's fans. Add to the equation that these mid-season friendlies (despite being worthy of shipping in real grass) have the tendency to leave tired MLS'ers injury-prone and it adds up to the feeling, rightly or wrongly, that the owners have returned to the quick "cash-grab" game.
Of course, there is a way that MLSE could smooth over these ill feelings. In a stadium with a football capacity near the 47,000 mark, the club could supply the 16,000 or so loyal season-ticket holders with a free ticket to the match and still leave more than 30,000 tickets left for general sale. Of course, MLSE will say they aren't the organizers of this friendly - but we are pretty sure their corporate credit card could handle treating those who line their pockets every other week of the year. This will of course not happen and some TFC fans, who voiced anger after Real Madrid in person, will instead this time show their displeasure with apathy and future absence.
There is no blame towards local Liverpool fans (including those who support TFC also) who want to shell out to support their Merseyside heroes - it is a rare treat. If the London club I was born into supporting was coming to town, I would do the same. However, I would not expect the person who sits next to me at BMO Field, and hates said club, have to pay to watch his TFC play them. Like in most other MLS cities, a free seat should be the minimum thanks a season ticket holder gets. More so in a city where that season ticket holder has yet to witness a playoff match.
The optics aren't good on this one so far. There will always be a handful of people who say that playing "a bigger" club is great experience. But many, including some players, are exasperated at the return of these midseason circuses. Toronto is a proven football market with fans that have gotten over watching European clubs work out their summer rust and instead only crave success for their local side. This match will not aid that cause and could even hinder it. As a popular Twitter hashtag trend exclaimed yesterday, Toronto FC should be seeking #TrophiesNotFriendlies.