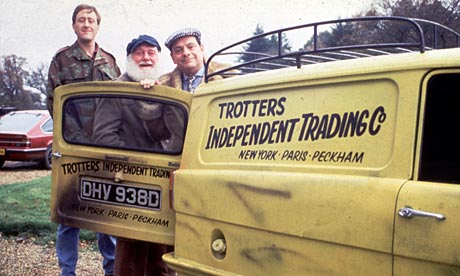 Del Boy's got loads of TFC clobber back there! Lovely Jubbly!
There are so many glaring differences between the 2011 TFC training camp and those that were held under the old regime. The current "Oranje Revolution" management are open with information, invite seemingly qualified trialists to camp and schedule challenging friendlies. Under old boss, the dictatorial Hosni Mobollocks (see what I did there? Topical!), it was all completely in reverse, done under a cloak of secrecy with very few, very canned, puff press releases.
 
Since the friendly victory over Partizan this week, the news from Antalya has included, happy players, motivated players, players learning actual tactics, players being selected for Canada and a general sense of optimism. The only minor story which is bubbling under the surface is the limbo-ish status of former interim head coach Nick Dasovic and the rumour that he has been offered, or has already become, the club's head Canadian scout. Either way, it's hardly a distraction to the players.
 
Speaking of players, TFC added a couple of triialists to the Dutch Pot this weekend in defensive midfilder Elbekay Bouchiba and young defender Chris Hunter. Bouchiba is a 32-year-old Dutch journeyman whose career has been spent almost entirely in the Dutch Eredivisie with quality clubs such as AZ, Sparta Rotterdam and FC Twente before moving to Qatar's Al-Wakrah club in 2008. Hunter is a strong 23-year-old centreback from northern England who decided to take the NCAA route with the UCSB "Gauchos" and lesser known junior Yavapai College. Favourite TV show is listed as "Only Fools and Horses" so he's already good in our books! Go on Del Boy!
 
The real reason we got up at 8AM on a Sunday morning of course was to fire up Twitter and various websites to follow The Reds through their second friendly of 2011. Today's match wasn't originally scheduled but added after arriving in Turkey when Aron Winter seemingly said "who can we play who is even meaner than Partizan?" And thus we bring you textual highlights of Toronto FC vs. Europe's angriest team... Red Star Belgrade.
 
TORONTO FC 1st Half Line-up: David Monsalve, Demitrius Omphroy, Adrian Cann, Nana Attakora, Ashtone Morgan, Matt Stinson, Elbekay Bouchiba, Oscar Cordon, Nick Soolsma, Maicon, Javier Martina
RED STAR BELGRADE 1st Half Line-up: 11 very angry looking unshaven Serbs, possibly a lead pipe...
 
1' - Club captain Dwayne De Rosario not with club as he left for Greece to prepare for Canada friendly and learn about Greek currency
9' - Red Star dictate the early play with aggressive wing play. TFC regretting salami, kebab and Turkish Delight breakfast buffet
12' - Maicon looking lively in the box when not having Red Star cleats imprinted into his thighs
15' - TFC Academy captain Matt Stinson brought down hard by Red Star defender. Apparently for "looking at him funny"
25' - Handful of travelling Red Star supporters start a running battle with a flock of seabirds who stupidly had Partizan-coloured feathers
31' - Monsalve makes solid saves on increasingly powerful Red Star shots
35' - Ashtone Morgan impresses with some tough 1-on-1 defending. He better watch his back at the hotel later
39' - Demetrius Omphroy shows off his new tattoo. A Serbian elbow imprint on his cheek
41' GOAL: Matt Stinson showing some Eastern Promise by finding himself on the end of a sweet Maicon Santon-Javier Martina set-up and cross. TORONTO FC 1 - RED STAR BELGRADE 0
44' - Coach Danny Dichio starts roasting the half-time goat

HALF TIME: TORONTO FC 1 - RED STAR BELGRADE 0
 
TORONTO FC 2nd Half Line-up: Milos Kocic, Dan Gargan, Ty Harden, Doneil Henry, Chris Hunter, Matt Gold, King Osei Gyan, Gianluca Zavarise, Bas Ent, Keith Makubuya, Joao Plata
RED STAR BELGRADE 2nd Half Line-up: Even angrier Slav dudes, a mean looking African guy and possibly a German Shepherd
 
48' - Toronto GK Milos Kocic tries to confuse Red Star with his wacky Serbian-Canadian lingo
52' - Bas Ent getting knocked down and right back up numerous times. Like an inflatable 1970's Dutch toy punching bag
60' - 5 foot 2 Joao Plata making a nuisance of himself with darting runs, sweet little passes and running between the legs of giant Red Star defenders
63' - Jim Brennan having hard time keeping up with all the early morning coffee orders back at TFC head office
68' - Plata in 1-on-1 with Red Star keeper but slips on the pitch before getting shot off. Red Star coach with shovel says "yes... pitch very slippery"...
71' - Top-rated trialist, and if signed, best TFC name ever - King Osei Gyan, looking very solid in defensive mid role for second game in a row. Hopefully this isn't a showcase for a bigger European club to grab him first
73' - Chris Hunter not intimidated by aggressive Red Star forwards. He's been in Newcastle's city centre on a Saturday night.
77' - Dan Gargan tries one of his "poor-man's Rory Delap" long throws but it gets lost in Keith "Boo-yah" Makubuya's long name
82' - Ent flattened again like a Dutch pancake. Ishn't that shtrange?
85' - Red Star throwing everything but the kitchen sink now at TFC defence. Wait... they actually threw a kitchen sink.
89' - Doneil Henry with a game-saving double block from a Red Star thrown-in then corner - Oh Henry!
90' - Ref blows whistle for full time - immediately runs to car and is driven to safe house.
 
FULL TIME: TORONTO FC 1 - RED STAR BELGRADE 0
 
So there we have it, a momentum boosting victory for TFC over high-quality opposition. Yes, we all know that these Balkan bad boys are just coming off winter break but it was still another tough yet skilled performance for The Reds. If there is one thing we can say for certain... after drawing Partizan and beating Red Star, Toronto FC are the best team in the Serbian League. On to win the Croat title later this week! Have to run now, there is a Serbian Yorkiesovic website that wants a "friendly" word with us.